On May 13, 2017, MHT attorneys enjoyed spending a morning with newly-elected and current government officials and appointees for its Eleventh Biennial Elected and Appointed Officials Municipal Law Seminar.
Officials from municipalities across Illinois attended this free seminar held at the Illinois Central College campus in East Peoria, Illinois.
Keynote Speaker: Illinois Senator Chuck Weaver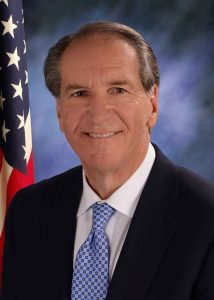 Illinois State Senator Chuck Weaver's was our keynote speaker. Senator Weaver's candid and pragmatic remarks regarding attendees' roles in interacting with state government were warmly received.
As a former City councilman, Senator Weaver's insights were particularly instructive.
Elected And Appointed Officials Learned About Laws Effecting Them
Attendees were also presented with the practical information newly elected and sitting municipal officials would want to do know:
How to make meetings productive and professional
Practical methods to address property issues and code enforcement
Recent developments in the Open Meetings Act (OMA) and the Freedom of Information Act (FOIA)
Negotiations and labor relations
Police and Fire
Employee discipline
Municipal development: opportunities and tools
Avoiding personal liability as a municipal official
Saving the municipality money – financing and refinancing opportunities
Restrictions of the first amendment on municipalities, public parks and public areas
Healthcare and employee benefits
Choosing professional, such as municipal managers, engineers, and attorneys
Held every two years to coincide with Illinois municipal elections, the next Elected and Appointed Officials Municipal Law Seminar will be held in 2019, but you do not have to wait until then. We regularly provide advice on these topics and more to our municipal clients. If you have questions about municipal law, or would simply like a complimentary copy of our seminar materials, please call (309) 671-9600 or contact us here.
Posted in FOIA/OMA, Lawyers, Local Government and Public Finance, Police, Seminar, Zoning